Today we are going to cover the nine best Star Wars iOS games for iPhones and iPad at the moment that you can play on the go.
Play some incredible games on your iPhone or iPad in honor of Star Wars Day to get a unique look at the Star Wars universe. Surprisingly, there aren't any Star Wars games available on Apple Arcade right now, but there are plenty on the App Store.
The nine best Star Wars games for iPhones will be discussed in this article. Please keep reading.
Star Wars: KOTOR II
You will need to make choices to ensure your survival and the survival of your people when you enter the Star Wars universe, where the Jedi have been all but wiped out by the Sith Lords. Although the odds are utterly against you as the sole remaining Jedi trying to re-establish contact with the Force, if you are resolute, you can survive.
With all of the characters, lightsabers, and plots you'd recognize from the franchises, Star Wars: KOTOR II is a relatively recent addition to the series.
This is THE Star Wars iOS game you can play on your iPhone, according to a lot of people.
LEGO Star Wars: The Complete Saga
Okay, so it might not be the entire saga anymore, but this is unquestionably the pinnacle of Lego creations. It's witty, razor-sharp, and packed with the kind of straightforward action that made Traveller's Tales famous.
You watch each of the six films in its entirety, switch between an absurd number of characters, and collect tons of Lego pieces to use in other Lego creations. The humor is what makes the game so unique, and even though the controls on iOS aren't ideal, they still work pretty darn well.
Star Wars: Galaxy of Heroes
A recent card battler will serve as our conclusion. You assemble a group of characters from various eras and use them in straightforward turn-based RPG combat.
Although the leveling-up system is somewhat confusing, once you figure it out, you'll be easily able to equip Clone Troopers with weapons and power up Jedi. Building up your team can be surprisingly addictive, despite being yet another time-waster.
Star Wars: Knights of the Old Republic
The video game Star Wars: Knights of the Old Republic, also known as KOTOR is ancient in video game years, this 2003 insanely well-liked PC game debuted on the App Store in 2013 and is still available.
You can invent your own Jedi or Sith and guide them in a tale set in a galaxy far, far away, in the distant past. It's simple to understand why this Star Wars game is still a fan favorite given the wealth of Force powers and extensive character customization.
LEGO Star Wars: The Force Awakens
In LEGO Star Wars: The Force Awakens, the Skywalker storyline is continued. Watch as newcomers Finn and Rey are drawn into an adventure they weren't expecting in the seventh entry in the Skywalker saga. In addition, old favorites like Princess Leia and Han Solo are making a comeback!
You'll shoot down stormtroopers, engage in a lightsaber duels with Kylo Ren, and even engage in a few space battles through a crazy Lego adventure. It has all the appeal of LEGO and is everything you could ask for in a Star Wars game.
The first episode is available to play for free, but additional episodes can be purchased in-app.
Star Wars: Starfighter Missions
A thrilling action game set in the Star Wars universe is called Star Wars: Starfighter Missions. Due to the focus on space battles, you won't find a single lightsaber in this project. You will face numerous foes on the battlefield, including bosses.
Additionally, you have the option of selecting both the spaceship and the side. Because of this, fans of the Galactic Empire can enjoy some fun combat with the Rebel Alliance.
Star Wars: Jedi Challenges
With the help of an iPhone or iPad's camera, augmented reality elements are superimposed onto a real space in this much simpler Star Wars experience. Create the illusion that characters like Darth Vader are entering your living room, then engage them in lightsaber combat.
Additionally, players can use tactics while deploying troops in ground combat, play Holochess without letting the Wookie win, pilot a ship through space in PvP battles, and more. Players can work to hone their Jedi skills by combining all of these factors.
Lego Star Wars: Microfighters
An old-school vertical shooter where you battle with well-known ships over movie-inspired planet settings. Even though it's a little on the short side and requires some tactical patches, it's still a decent amount of difficulty.
Star Wars: Assault Team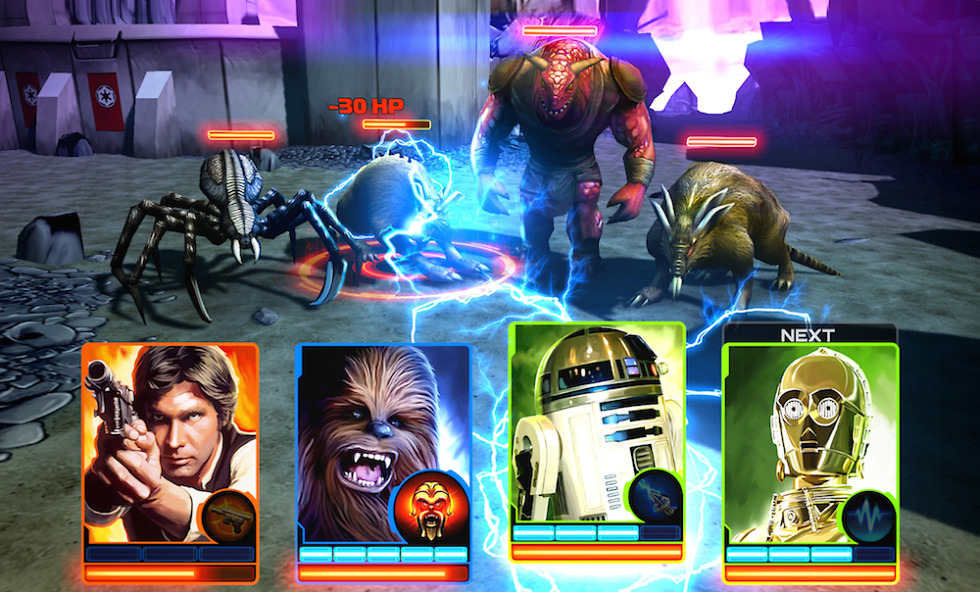 While this card-based strategy game doesn't invent the wheel, it does offer a solid experience that is greatly enhanced by how well it incorporates the sounds and visuals of the Star Wars universe. Finding out who the next hero or villain has an inherent joy to it.